Parramatta is known for its nightlife. Large-scale performances at ANZ and CommBank stadiums, significant events at Qudos Bank Arena, city-wide festivals, and a strong live music scene are just some of the reasons why so many people from all over Sydney go to the area to be entertained.
A refreshing drink in a friendly pub at the end of a long work day is sometimes the only way to receive a true break from the rush and bustle of daily life: a fact known by Parramatta locals for at least 200 years.
If you're looking for a place to party with your friends and chill, then keep reading to know more. 
The Woolpack Hotel 
When Governor Phillip gave over a license in 1796, The Woolpack became one of Australia's original ten taverns. The hotel was originally located across the street before being relocated to its current location in the 1890s.
It's been given a modern makeover since then, with a lovely outdoor courtyard, a main bar with plush seats, and a high-tech sports bar. There are numerous drinks to pick from, including a big and varied wine list as well as a fun and inventive cocktail menu. The dining area is run by M & J Thai Restaurant, which serves lunch specials, stir-fries, curries, and noodles.
Albion Hotel 
The Albion Hotel, which organizes big ol' dance parties every Friday and Saturday till the early hours, is another truly late-night haunt in the region. Every week, DJs spin retro hip hop and R&B, with frequent special events on the calendar. If you're bringing a group of 12 or more people, submit your guest list here to receive discounted entry permits and drink vouchers when you arrive. 
Apart from the nightclub, the facility features a spacious beer garden, Parramatta River views, live sports on the big screen, and comfort food like burgers, schnitty, and weekend roasts, as well as comfort food like burgers, schnitty, and weekend roasts. If you come in on Sunday, the bar will have live music starting at 4 p.m.
Club Parramatta
Staying in a Parramatta hotel? Then you'd love this one! Club Parramatta is a sports club based in Parramatta. It's a terrific spot for people to gather to dine, drink, and enjoy live music and events. On Friday and Saturday nights, DJs play in the Upstairs Bar to help you unwind. Sunday sessions are a great way to unwind at the end of the weekend, especially when paired with one of the many drinks on offer.
Coco Cubano 
The local branch of Cuban-themed café Coco Cubano, located on Parramatta's popular Eat Street, offers outdoor seating, a wide all-day menu, and plenty of fiesta vibes. Once the soccer game is over, head there for margaritas, frosé, and pia coladas, or jugs of sangria and Pimm's for the table. 
Then tuck into tapas and large bowls of loaded nachos, which feature fish, grilled chicken, or beef tacos; halloumi and mushroom quesadillas; salt and pepper calamari; and Cuban sandwiches. Make sure to spare space for dessert, which includes churros served with ice cream and melted chocolate or in a sundae with brownie crumble, dulce de leche, and chocolate fudge.
General Bourke
Previously known as the endearing "PJ's," the restaurant has reverted to its original name of General Bourke.
Music is central, as it is at most alehouses inspired by the Emerald Isle, with DJs blasting old school tunes on Fridays and bands shouting out '90s classics till the early hours of the morning on Saturdays. But that doesn't rule out the possibility of a good time.
The Ante Room, which has a sandstone fireplace, and the Hearth, which has crimson banquettes, are both good places to go for a quiet Guinness. A bright beer garden is located on the first-floor terrace.
Burgers, woodfired pizzas, steaks, and moreish appetizers, such as baked camembert with rosemary, lemon, and garlic, are on the bistro menu.
The Commercial Hotel
The beer tanks at the Commercial Hotel are its claim to fame. These glasses, which are filled with unpasteurized draught, allow drinkers to enjoy their brew in its most natural, unadulterated form.
The airy beer garden, replete with bursts of greenery, a 3.5-metre screen, and an all-weather cover that lets in the light but keeps the rain out, is the finest place to drink it.
The light-filled Verandah Bar, which overlooks the garden, is another evocative alternative. The menu includes pub staples as well as some unique specialty main courses including French-style lamb shank and crab ravioli.
El Phoenician 
El–Phoenician is a sleek, stylish, and beautiful establishment that sets the bar for great Middle Eastern and Mediterranean dining. El–Phoenician frequently features Arabian drumming displays, dancers, or live music to provide guests with a complete cultural experience with entertainment and live music.
The Winston
There's always something going on at the Winston, which hosts a variety of events. They have some fantastic regular events, such as live music every Saturday night and Sunday roasts, grills, and braises, as well as pub classics, to keep you warm.
There are additional unique events held throughout the year. The Whisky Masterclass — a soul-warming night with Whiskey Connoisseur Cameron Pirret where you'll be introduced to 5 international whiskies and paired with a selection of cheeses – is not to be missed in August.
ALEX & Co.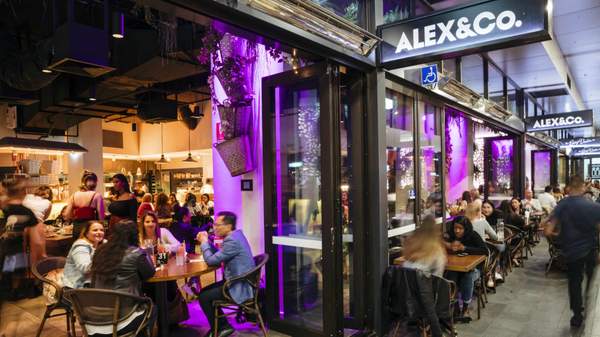 ALEX&Co's combination of international dining and cocktail/bar culture. is just what makes it one of the city's most popular hangouts. What began as an initiative to integrate Parramatta's eating and bar cultures has grown into an upgraded destination experience, thriving with live music.
The live DJ starts at 7 p.m. every night, but Thursday and Friday nights are the most popular, with RNB 90's playing till now and after work Friday nights. Keep an eye on ALEX&Co because they're always changing things up to see what happens next.
Do you find this article informative? Please do share it on your social media!
Photos: 
https://images.squarespace-cdn.com/content/v1/5b9f3f77e17ba32aa86cb662/1537166046183-OSGM95KE64A27CGE3LEQ/banner.jpg?format=2500w
https://www.newedgegroup.com.au/wp-content/uploads/2020/02/Club-Parramatta-04.jpg