Public toilets are areas that have large traffic of people daily. That is why they are very delicate places for addressing a cleaning plan. We must pay special attention to disinfection because of the accumulation of bacteria and germs. In this post, we talk about the cleaning protocol for public toilets that companies and specialists must follow(Restroom Cleaning protocol).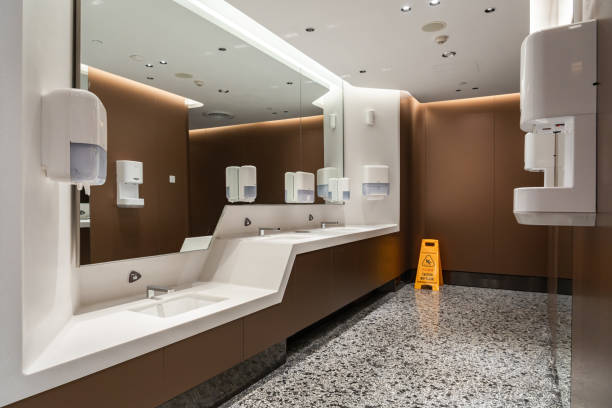 How to clean a public toilet
As far as possible, we recommend it to clean public toilets at least twice a day. The number of people who pass through the bathroom can be very high and it is convenient to keep the toilets and the surfaces that are used the cleanest. Cleaning should not be generic in this case, but we should clean the different areas in depth.
Toilet cleaning
It is the part of a public bathroom that requires the most cleaning and should be cleaned at least once a day. It is also essential to use the right products and a good disinfectant to treat all toilet surfaces. We recommend it to clean the water tank of the cistern once a month.
The walls
The walls of public toilets are exposed to splashes, so daily cleaning is mandatory. They are an element that is within everyone's reach, and they are often touched constantly, so they are a source of germs and bacteria.
The faucet
Besides using disinfectant soap, an anti-limescale product can be used on the taps in public bathrooms to ensure good maintenance and that they remain in good condition.
The soils.
Another fundamental point that requires daily cleaning is the floors. Many people step on this surface every day, so much more dirt accumulates than in other rooms. For a correct protocol for cleaning public toilets, the dust must be swept first and, later, disinfected with a specific product for floors. It should also be taken into account that it can be dangerous for these surfaces to get wet, so an anti-slip product could be incorporated to prevent slips and falls.
The paper bin
Because of the high traffic of people, it is likely that we will fill the bins earlier than expected. Once a day it is convenient to empty and change the bags.
 P
aper and soap
Toilet paper and hand soap are two products that cannot be missing in a public bathroom. Make sure that they are always available and, if possible, replace them as soon as they run out.
 Cleaning material for public toilets
One piece of advice for choosing to clean materials for public restrooms is to establish a color code. In this way, we can establish a cloth or brush color for each area and thus avoid cross-contamination.
For surfaces such as countertops and walls, a

microfiber cloth can be used

.

Brushes

help us remove the most difficult dirt.

Mops

allow

us to clean both wet and dry many surfaces.
Public restroom cleaning products
Choosing the right products for cleaning is essential to remove dirt and residue correctly.
 Detergents or cleaners used as cleaning products for public restrooms must have a pH below 5, as they are the most effective for removing embedded dirt.
 Disinfectants must be powerful and with fungicidal and bactericidal active ingredients to kill any bacteria and microorganisms. Another option for general cleaning is ecological cleaners. They are much more respectful of the environment and the health of the people who carry out the activity.
 This guide or protocol for cleaning public toilets aims to make everyone aware of how these types of rooms should be disinfected and how important it is to maintain good hygiene. The best option is to leave these tasks in the hands of professionals, from SCS Group Cleaning we will be happy to take care of the cleaning of any establishment(Restroom Cleaning protocol).