Computers and Technology
Converting ANSI PST to Unicode PST in Outlook 2016, 2013 & 2010
Migrate from ANSI PST to Unicode PST
ANSI PST files are Outlook data files generated with MS Outlook versions 97-2002. The ANSI PST file size maximum is 2GB, and these files do not handle multilingual data. However, with the release of Microsoft Outlook 2003, Microsoft began giving increased storage space for Outlook data files. Unicode PST files in Outlook 2003 and later versions also support multilingual data.
It is relatively simple to create an ANSI PST file. The procedure for producing ANSI PST files in Outlook 2016, 2013, and 2010 is nearly the same. To generate an ANSI PST file, follow the procedures below.
1. Start Outlook and go to the home tab, then pick "New Items." Select "Outlook Data file" from the "More items" menu.
2. Expand the "Save as type" column, click "OK," and then pick the "Outlook 97-2002" data file.
This is how to make an ANSI PST file. And the method of producing an ANSI PST file in Outlook 2010 and 2013 is the same.
ANSI PST to Unicode PST Conversion
Although generating an ANSI PST file is simple, changing it to a Unicode PST is more difficult. However, there are various techniques for converting an ANSI PST to a Unicode PST. We've discussed two of them here.
● Make a new Unicode PST and import data from an existing ANSI PST.
● Using the Softaken Outlook PST Upgrade Tool, convert ANSI PST to Unicode PST.
Import Data from an ANSI PST into  New PST
Creating a new PST file and importing data from the ANSI PST file is one of the simplest ways to convert an ANSI PST to Unicode PST. The actions listed below should be taken to achieve this.
● Open any version of Microsoft Outlook and pick "New Items," then "More Items," and finally "Outlook data file." Give the file a name and save it in the chosen location.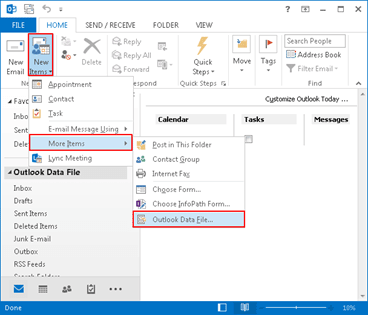 ● To import data from an ANSI PST file, go to the file tab and select "Import and Export.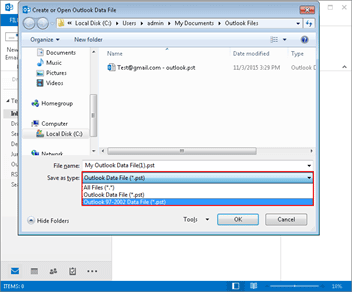 ● Choose "Import from another program or file" in the opening wizard, then click "Next."
● On the following page, choose "Outlook data file" and then click "Next."
● Click "Open" after selecting the ANSI PST file from the system.
● To finish the procedure, click "Finish." The data from ANSI PST has been converted to Unicode PST.
This is how you convert an ANSI PST file to a Unicode PST file.
Professional ANSI PST to Unicode PST Conversion With Softaken PST Upgrade
Softaken Upgrade PST ANSI to UNICODE tool is sophisticated software that can convert ANSI PST files to Unicode PST files. In the below section we explain the Steps to Migrate from ANSI PST to Unicode PST file, and advanced features of this software.
How to convert an ANSI PST file to a Unicode PST file?
1. Install the program on your machine after downloading it.
2. Click the Start button and type Software into the search box. Alternatively, on the desktop, double-click the Softaken Software Icon.
3. PST file should be selected from the Add file or Add folder option.
4. View the preview of the PST Files.
5. Select your desired route and click the start converting button.
Using this program, you can simply convert an ANSI PST file to a Unicode PST file.
The main qualities of Softaken PST should be Enhanced
Technical knowledge is not require.
Ensure that the PST is convert from ANSI to UNICODE.
Conversion of certain files.
Individual PST files can be export.
To verify crucial functionality, a free trial is available.
Solution for preventing ANSI file corruption.
All major versions of Outlook are supported.
It is simple to use in all Windows versions.
A committed and diligent customer service staff.
The perfect path is easily discernible.
Each file is thoroughly reviewed.
Delete option for wrongly loaded files
The user specifies the output destination.
What are the benefits of using Softaken's PST Upgrade Tool?
1. The utility does not require any technical knowledge to get accurate results.
2. The utility is up and running. As a consequence, updating the PST files is quick.
3. Converts obsolete ANSI data into Unicode PST format.
Important PST Upgrade Software Functions to Know
The individual interface is straightforward
No technological awareness is essential to employ the tool. It is a simple yet powerful conversion tool with an easy-to-use user interface that can be use by both technical and non-technical users.
Convert Required Outlook Data
PST Upgrade enables clients to upgrade the PST files that they select for their comfort and the desired output. Navigate the interface to locate the file you want to convert.
Excellent compatibility
This is a Windows utility that is compatible with all major Windows operating systems, including XP, Vista, and 10. Users' computers are not disrupt while you do other operations with this tool to convert ANSI to UNICODE PST.
Error-Free Conversion
It converts ANSI to Unicode with ease. The converting technique is simple and uncomplicated. There are no corrupted files. The program preserves text structure, double-byte characters like Chinese, Japanese, and Korean, as well as punctuation marks like commas, a hyphen, a dash, and so on.
It is possible to install the free demo
You must first experience the demo before applying for a tool license. The trial edition has certain limitations, but it allows you to learn about the major functions of the application.
Batch conversion is an option
You may convert many PST files at once. You may simply import a folder containing many PST files and convert them quickly and properly.
On its own, the program
The conversion is solely the responsibility of the ANSI to UNICODE PST Converter application. The installation of Microsoft Outlook is not require for this job. No need for any specialized equipment.
Keep the folder structure
No folders are move from their original position by the Upgrade PST tool. The whole data and folder sequences are retain while converting ANSI PST to UNICODE PST format.
Conclusion-
Outlook 2016/2013/2010 versions may be use to convert ASNI PST to Unicode PST. There is also a professional program that may assist you in converting an ANSI PST to a Unicode PST file. To check the working process of this utility by using its free trial version.