The cleaning and disinfection of spaces and surfaces are essential in many centers or establishments, but it gains a much greater value when we talk about cleaning in residences. The people who live or use these facilities may be part of risk groups because of their advanced age and avoiding possible infections is essential to guarantee a good quality of life.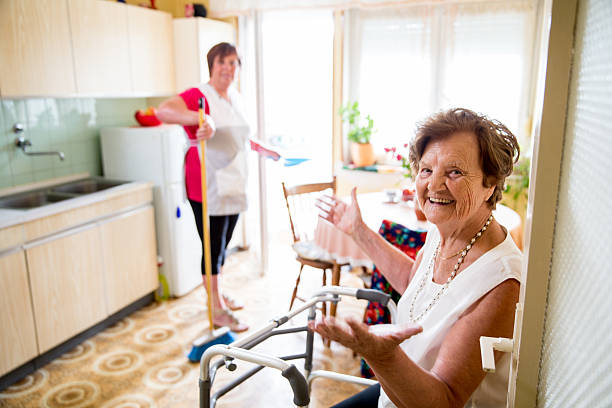 Importance of cleaning residences
Geriatric residences are social and health care centers in which elderly people live together with specialized personnel who are in charge of their care. All workers must be fully qualified because of the special needs of the residents and this also includes cleaning staff in nursing homes.
With the coronavirus, nursing homes became one sector most affected by the pandemic. Therefore, guaranteeing professional cleaning and disinfection of the residences is essential to guarantee the correct development of life and activities in these centers.
For this, there are standards and cleaning protocols in residences, whose aim is to establish paradigms and bases so that all nursing homes meet the cleaning standards for their habitability.
Cleaning standards in nursing homes
As it is a vulnerable group and with a greater possibility of developing pathologies or diseases, establishing a cleaning protocol in nursing homes is a necessity to guarantee its correct disinfection.
For cleaning many furniture and fixtures, we recommend it to use cloths or cloths moistened with products suitable for each surface. In this way, we avoid generating dust suspended in the air, achieving total sanitation.
Floors deserve special attention, as they can be a major source of tripping or falling. To remove dirt, we recommend it to use types of machinery such as vacuum cleaners and special scrubbing sweepers to avoid raising dust. In addition, it is essential to thoroughly dry the floors so that accidents do not occur. However, we recommend the use of precautionary signage so that during the cleaning tasks; the residents take extreme care in case they have to cross the area in question.
To achieve
proper sanitation of nursing homes
, daily, weekly, or monthly
cleaning plans
are established according to the needs of each area.
Daily cleaning tasks
Within the cleaning protocol in residences, there are a series of tasks that must be carried out daily and even several times a day. These are the ventilation of the spaces, fundamental in the pandemic, and the cleaning of surfaces and common areas used repeatedly by residents such as the rooms, the kitchen, the dining room, and the entrances of the rooms. Multiple people can use deep cleaning of elements such as handles or cranks throughout the day. Floors, bathrooms, sanitary rooms, corridors, or doors are also spaces and surfaces that must be disinfected and sanitized throughout the day.
Weekly or fortnightly cleaning tasks
We recommend it clean windows or exterior spaces that do not require as much attention as rooms that are used daily, on a weekly or regular basis.
We will carry every fifteen days deeper cleaning out in locations such as bathrooms, kitchens, or common areas using steam cleaning machines to remove all that dirt that is difficult to remove with other types of cleaning methods. Thus leaving walls, floors and surfaces perfectly sanitized.
Monthly and periodic cleaning tasks
One location in a nursing home requires regular deep cleaning in the kitchen. Cleaning kitchens in residences is paramount.
This task focuses on removing dirt and disinfecting surfaces such as hoods, stoves, and burners, as well as appliances or tiles.
Besides exhaustive cleaning, it is essential to carry out tasks such as cleaning filters in air conditioners in order to avoid outbreaks and specific cleaning and disinfection tasks aimed at preventing the appearance of insect pests.
Cleaning products for residences
Cleaning in nursing homes requires techniques, machinery, and products suitable for the facilities. We must test the chemical products used in nursing homes since those that do not have harmful effects or trigger allergic reactions or discomfort in the users of nursing homes we need to use.
We carry the cleaning and disinfection tasks in residences out with adequate machinery that a trained professional must handle. Ozonation is environmentally friendly disinfection and cleaning alternative that eliminates bad odors, and renews and improves air quality, which is why it is one of the most suitable techniques for cleaning nursing homes.
The cleaning staff of the center must have the proper training.  To know the latest news and regulations regarding cleaning plans, techniques, or products that we need to use. For this reason, it is essential to hire cleaning companies that have specialized professionals and know first-hand all these cleaning standards in nursing homes, as well as which are the most suitable chemical products for each of the rooms.