The order and cleanliness procedure in warehouses is a simple task if it is carried out responsibly and periodically. In fact, it should be an obligation to take care of workspaces: a clean space provides more security and motivation.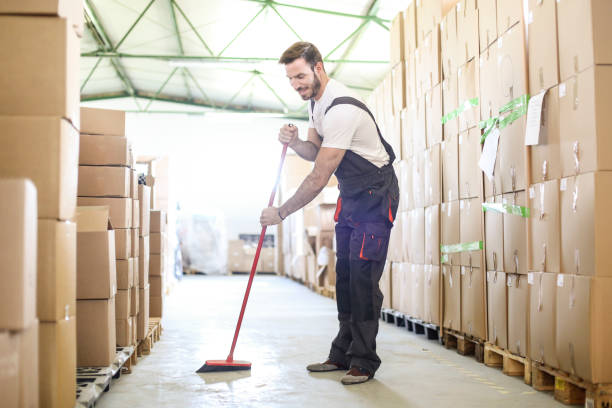 And it is that, if a certain order and cleanliness are not maintained, accidental situations can occur, such as slips or falls caused by wet floors or even blows because of disordered materials. Therefore, we must think of cleaning not as just another job, but as an act of preventing future risks. A neat and clean warehouse will be a safer place for all employees.
clean and tidy warehouse
A clean workspace is synonymous with safety for the team. But the tasks of cleaning and disinfection warehouses are far from what we can do in our daily lives. For this reason, a professional company must carry the cleaning of warehouses out. Hiring them will be essential, above all, in companies that deal with dangerous or pharmaceutical goods. Thus, not only the staff is protected, but also the company's materials.
When hiring a company to start the warehouse cleaning procedure, we must be clear about the elements to consider starting disinfection:
Cleaning floors in warehouses:

the floor is, without a doubt, the one that suffers the most from dirt. It is the transit area for personnel, equipment, material, or even vehicles and forklifts… If it is a large area, the best option is to have qualified personnel who can clean the floor with scrubbing machines.

Cleaning of ceilings, walls, and shelves:

although cleaning is done less frequently, we should not neglect it as they are elements that also accumulate dust over time, damaging the products in the store.

Waste management:

cleaning must be sustainable and comply with the company's environmental regulations.
 Warehouse cleaning procedure
When we want to maintain order and cleanliness in warehouses, a good method is to have a manual that allows us to verify that everything is being done under the regulations.
Occupational Safety and hygiene
recommend carrying out 5 good practices for cleaning warehouses. We named these after the 5S, according to the Japanese cleaning manual on which they are based. 
Sorting

–To take advantage of space, you need to remove items that are not used. Then, they are sorted according to their priority, which allows better use of space. In addition, this also favors the company economically, since it allows greater control of the materials, reducing unnecessary purchases.

Order

: classify and store the material in the designated spaces.

Cleaning

: a good way to ensure that we met correctly. This point is to have a reputable cleaning company. In addition, it is especially important to have a calendar in which the cleaning days are established.

Signage

: providing information to the staff so that they maintain order and cleanliness in the warehouse is also important.

Responsibility

: the team must know the aim of cleaning the warehouse. Thus, the order will remain over time and will have a real impact on the organization's resource management.
Warehouse tidiness and cleanliness: the advantages of a cleaning procedure
The order and cleanliness procedure in warehouses is a joint effort. The contracting organization, the staff, and the cleaning company must collaborate to keep the space sanitized and clean.
Once all three parties are involved in the cleaning and disinfection plan, they will see positive results almost immediately. And it is that a clean and tidy warehouse offers great advantages:
Greater safety at work. Less risk of fires and accidents.

Tasks are made more enjoyable by working in a less chaotic space.

Optimization of working time by better finding materials and products.
A clean and tidy warehouse translates into safety, productivity, and optimization of space. The advantages are indisputable and should be part of the day-to-day of the company. In addition, to favor the extension in time of the order and cleanliness of the warehouse, it is advisable to carry out periodic inspections. Thus, you will have a clear vision of how often it is necessary to carry out a thorough cleaning of the workplace.
Hiring qualified personnel is the perfect option to clean workspaces without taking risks. In addition, it will ensure good management and processing of waste.
In SCS Group Cleaning, we have the right material to clean warehouses. They resolved the sum of our materials and machinery together with the extensive experience of our company with a neat and professional result.